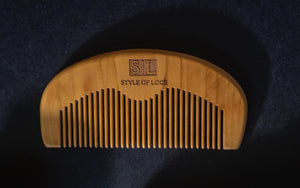 SL Beard Comb
Sale price Price $10.00 Regular price
Use this Comb to: 
🏆
Detangle your beard after applying a product
🏆
Remove unwanted or excess hair after applying a product
When should you use this comb?
This comb is great to use after you've applied a moisturizing product(like the butter, balm, or the oils). After applying your chosen product, you can use this comb to help evenly distribute it throughout your beard. 
*Make sure to use a product before combing through your beard, so that your beard hair is moisturized and coated, and doesn't break as your comb through.
What's it made of?
✅ Wood
🌳