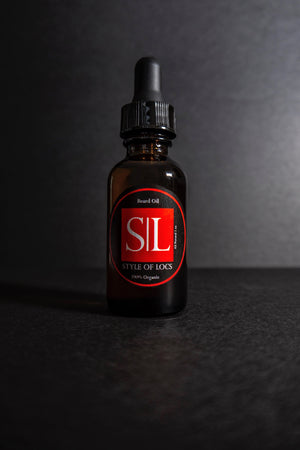 SL Beard Oil
Sale price Price $10.00 Regular price
Use this oil to give your beard: 
🏆
Shine
🏆
Moisture 
🏆A 
Great Smell
When should you use this oil?
Use this beard oil anytime you want to lock moisture into your beard and make it shine. It's great to use right before bed. You can wash your beard, and then add the beard oil to moisture it overnight(like a lotion for your beard). This will help you avoid waking up with a dry, brittle beard. Additionally, you can take this on the go, and use it to freshen up your beard during the day.
What's in it? Here are some of the
 

natural

 

ingredients! 

The all-natural ingredients in our beard oil work seamlessly to enrich your beard.

 ✅Jojoba Oil

 ✅Argan Oil

 ✅Sweet Almond Oil
What scents do we have?
Our standard Beard Oil scent is a peppermint and spearmint mix. We also have a large selection of other scents to ensure that you're using a product that you'll love to wear daily. Use the dropdown to select other scents.