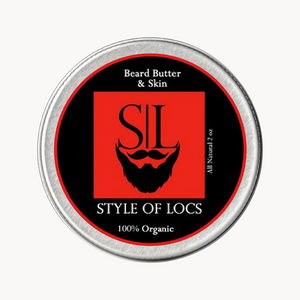 Copy of 🏆 Beard Butter & Skin
Sale price Price $10.00 Regular price
Use this butter to help: 
🏆Lightly style your beard 
🏆Lock in moisture 
🏆
Prevent Razor Bumps 
🏆Prevent Itchiness
🏆Prevent Ingrown Hairs 
🏆
Soften your beard 
When should you use this butter?
This is great to use in the morning. Right after you wash your beard, add this butter to moisturize it. Then you can comb it out and style it. This will give your beard a light styling hold. 
*This beard butter is great for your beard and can also help to moisturize your skin.
What's in it?
These all natural ingredients in our beard oil work together to style and moisturize your beard:
✅Argan Oil 
✅Castor Oil
✅Vitamin E Oil 
✅Sweet Almond Oil
✅Mango Butter 
✅Kokum Butter
✅Shea Butter
What scents do we have?
Our standard Beard Butter & Skin scent is a peppermint and spearmint mix. We also have a large selection of other scents to ensure that you're using a product that you'll love to wear daily. Use the dropdown(above⬆️) to select other scents.